Happy Valentines Day! ♥
This has always been my FAVORITE holiday of the year. Scratch that, it's my favorite DAY of the year. 🙂
For the last 17 years straight, I've spent every February 14th celebrating everything I love and appreciate in life.
For many of those years I would also treat myself to all the things I loved most.
This year is no different. Except "what I love most" has changed… a lot. I love feeling proud of myself, leaner, more confident, happier, more energetic, and healthier.
That doesn't mean I can't enjoy a traditional Valentine's Day treat of course. 😉
I made some delicious low carb melt-in-your-mouth chocolate and nut butter candy hearts last night!
Choosing to live a healthy, active low carb lifestyle is the best thing I've ever done for myself.
THAT is worth celebrating!
It has become SO much easier since I stopped treating it like a "diet" and got off that crazy dieting roller coaster. You know, the one where you tell yourself you deserve a "reward" for losing 1.4 pounds. Or you eat a donut to spite your scales that won't move for you (as if they care, lol). 🙄
Love Yourself As You Are
To love yourself as you are, right now (today), does not mean that you can't change.
I don't think I said that right.
I know that I really struggled with letting go of my old self and embracing the changes in my body – and in my mind, and just in my life in general.
I struggled with that so hard that I kept going through a self-sabotage cycle every time I would get within 10-15 pounds of my goal weight.
I was afraid of who I would be, or not comfortable with getting comfortable, or just making some weird transition between still having an unhealthy overweight MIND in a lean BODY.
I don't think I'm making my point – apologies, I'm distracted.;)
Yesterday I woke up with my hand resting on my hip, and still fuzzy and half asleep I felt myself grip the squishy fat there. *sigh* I threw off the covers and got out of bed feeling deflated and disgusted with my body.
Thoughts like last year I was really lean and geez I've lost a lot of muscle tone this year followed me to the coffee maker. "Ugh."
In my recent post about motivation to stay on track I mentioned that the internal dialogue HAS to change, and YOU have to be the one to change it.
Okay so I'm not as tone and fit as I used to be. I'm the same weight and in the same pant size, but my body composition has changed. There's no sense beating myself up about it.
I know exactly what to do to get back to where I felt my BEST – so just do it!
It won't happen overnight. I remember the process before, and the process itself was FUN and GREAT – which got me excited about doing it again!
#mindshift 😉
I love Valentine's Day so much that I started a day early. And I usually keep celebrating a day past. Because you know: February 15th is a GREAT day to buy flowers and jewelry.
I love to go out the morning of the 15th and buy myself beautiful bouquets to brighten up my "winter home" and fill up my empty vases – because they're super cheap the day after.:) lol
Anyway, here's what I ate yesterday… plus the low carb candy I made last night (in my PJ's, with the music blaring, singing at the top of my lungs and dancing around the kitchen making a beautifully delicious mess!). 🙂
My Low Carb Meals on Tuesday
Breakfast was two fried eggs over fresh baby spinach, with the butter from the skillet drizzled over my spinach leaves. Plus a babybel cheese on the side.
Lunch was a delicious bowl full of healthy low carb foods…
30 grams of pecan pieces, 2 servings of KZ Clean Eating Low Carb Cereal (YUM!), 1/4 cup of Daisy brand cottage cheese, 4 small strawberries and 18 grams of blueberries.
Dinner was a toss up between a Ribeye steak and chicken sausage…
I had my heart set on the ribeye. 🙂
I ate the entire 8 ounce steak by itself, saving my carbs for dessert.
I didn't really have a specific plan for dessert, other than to PLAY and just get creative with all the fun low carb products I had on hand from recent reviews – to make some fun low carb candy creations, of course.
You can make low carb fudge easily with just peanut butter & coconut oil – then add unsweetened coconut, salted macadamia nuts, pecans, or even berries.
The options are endless! Just see what you have in your kitchen to work with and get creative with it.;)
Here's what I gathered up:
Our coupon code for Legendary Foods is: lowcarbtraveler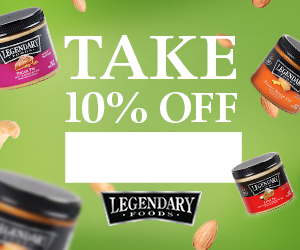 MyFitnessPal Diary for Tuesday
Calories: 1671
Net Carbs: 18
80% Fat, 15% Protein
Protein: 62 grams
Water: 56 ounces
How To Get Net Carbs in MyFitnessPal (Free)
Ideal LCHF / Keto Macro Tracking Explained
I made a fun variety of low carb candy to enjoy:
My FAVORITES were the different nut butters in milk & white chocolate:
Yum! So delicious, and VERY low carb the way I made them.
Mixing coconut oil with nut butters makes a really fast & easy fudge – but it also lowers the carb count of the nut butter WAY down too. 😉
I tried several fun combinations, so I put all the pictures in an album with the details to give you some creative ideas to work with – and some flops NOT to try.:) haha
You can make low carb fudge easily with peanut butter & coconut oil like I said, but I was using some fun products I've been reviewing.
I have coupon codes for most of those products, so if you have any questions about them or want the coupon code, let me know…
What are your plans for Valentine's Day?
I always look forward to your thoughts, comments & questions!
Wishing you a beautiful day full of LOVE and smiles. ♥ *cheers*
Best,
Lynn Terry,
aka @LowCarbTraveler



---
🔎 Shop Low Carb / Keto at Netrition
Discount Code: LOWCARBTRAVELER
---